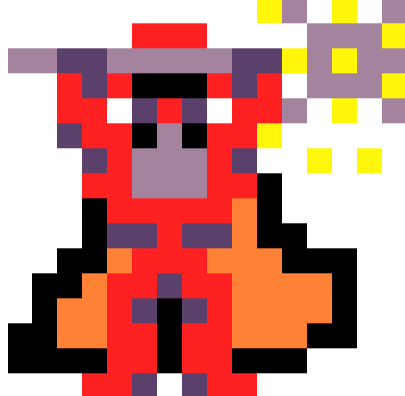 Revenge of LORD CALBOS
The V1.0 Build of my love letter to a Star Wars Fan Film made almost 30 years ago and my FIRST FULL MAKECODE ARCADE PROJECT!
You are Lord Calbos Leader of the remnants of the empire, the son of Grand Admiral Thrawn, Sith Lord, and wielder of the greatest weapon in the galaxy...THE EZROG!
In this game Jaina Solo and her faithful sidekick Shuta are out to stop you from becoming the ULTIMATE POWER IN THE UNIVERSE...MEGA CALBOS.
Fire the Ezrog at your enemies with the A button. When you build up enough charge (score) fire a devastating attack but this will drain the Ezrog of it's precious energy. Fill the Ezrog enough and you'll unlock it's true power and your final form, MEGA CALBOS.
The film was called "Quest of the Jedi" and filmed locally where I grew up in Suffolk County Long Island. It's bad, but as a kid it ruled.
LONG LIVE CALBOS!
GET A CALBOS STICKER HERE!